How do you successfully turn an established, popular tour concept, including in-person meetings and product seminars all over the country, into a digital event? Siemens knows the answer, as they have done just that with the help of Twenty Studios.
Once the Covid-19 pandemic hit, the manufacturing company Siemens realized that they would be unable to go through with their yearly event: the popular Factory Automation Tour.
"We knew that we would have to go digital, but we weren't sure how to solve the technical details. Our global headquarters quickly developed a virtual fair platform, but even though we were used to organizing webinars in Sweden, we quickly realized that connecting with our customers at a digital event would be a challenge", Björn Jerlin, Digital Marketing Manager at Siemens AB, says. He continues:
"Our initial plan was to broadcast everything from our Stockholm office, but once Twenty Studios had us come over and look at their studios, we knew that they could offer us a much higher production value. I believe someone at our office called it 'television-level quality'."
"The power of going digital"
Siemens is a leading innovator in digitalization and automation, so when the Siemens Factory Automation Tour turned into the Siemens Virtual Factory Automation Tour (known in Sweden as the Siemens IndustriExpo),with digital seminars on the menu, coupled with an event platform featuring virtual booths, Björn and his colleagues felt a great sense of power from being able to carry out this activity digitally. For one thing, instead of touring to various places around the country, the digital format allows you to maximize the geographical reach of your target groups. Another benefit is, of course, that the material will live on, since it's recorded and is available on the Siemens website, www.siemens.se.
After two Covid-19-riddled years packed with digital events, both in collaboration with the Siemens Corporate Headquarters in Munich and a local collaboration with Twenty Studios in Sweden, Björn concludes that they have managed to establish the concept and have gotten a lot of positive feedback from the visitors.
– Only a handful people have expressed that they miss the old physical concept. We will keep on organizing virtual activities, but also, of course, physical activities and hybrid events.
An overall solution through coaching
A key factor in the success of these events is the collaboration with Twenty Studios.
– They really got us, and they put themselves in our situation. They were very solution-oriented and keen on creating a good overall solution. Twenty's premises are spacious, so a lot of people could be there at the same time. Our account managers and product managers were able to carry out their virtual customer meetings straight before and after they had given a presentation. This was made possible thanks to our access to twelve dedicated workstations to manage the digital event booths, meeting rooms, and a lounge with catering services that's perfect for just hanging out, too.
Another aspect that Siemens appreciated about this setup was the communication skills coaching and studio training that Twenty Studios arranged. The coaching consisted of digital training, a workshop, and hands-on, practical guidance during the dry run.
– Our presenters felt that the coaching element was really useful, and that they got a lot better thanks to these professional instructions.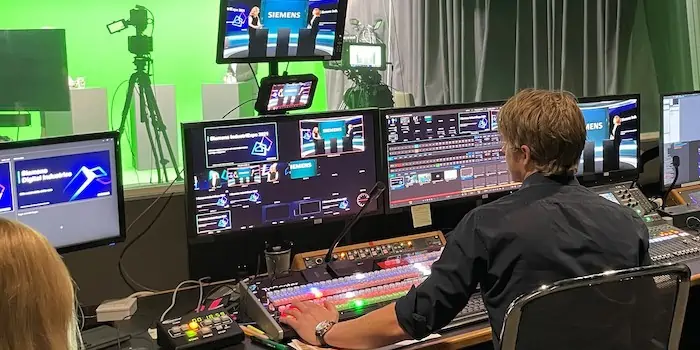 Brilliant examples of professional webinars
Siemens' Swedish webinars during the IndustriExpo have also been picked up by Siemens' global headquarters as a brilliant example of best-in-class webinars.
– The fact that we were able to gather the whole team in one place and stream from a professional studio using high-end green screen technology has been crucial for getting a good result, says Björn, and Håkan Stigh of Twenty Studios agrees:
– When you're dealing with Siemens, a well-known and respected brand, you really need to ensure that you're giving a top-level production.
Five benefits of organizing a digital expo, according to Björn Jerlin at Siemens:
1. Better accessibility
More people have the chance to take part in the expo and on the same terms, plus it's quick and it's simple.
2. A chance to reach new audiences
The digital format opens the possibility of reaching new audiences plus people in other positions than those who have previously attended this event.
3. Increased longevity
The material can live on long after the event is gone, which fits us perfectly, as these webinars have a long shelf life. And, the material can be used in different contexts, too, such as for training and in campaigns.
4. Increased sustainability
A digital event contributes to increased sustainability from several perspectives. It saves resources and cuts down on traveling, both for us and for our customers.
5. Access to data
It gives us access to valuable data that allows us to make better analyses of the activity.