When the Covid-19 pandemic hit, Teamsdagen, like many others, needed to adjust to a digital format. This turned out to be a huge success in many ways. "One determining factor behind our success was the fact that we decided early on to hire professional help when it came to production and presentation", says Mårten Hellebro, one of the event organizers behind Teamsdagen, one of Twenty Studios' clients.
Teamsdagen (Teams Day) is the single largest Teams event in the Nordic countries, made for people who work with and are passionate about Microsoft Teams. It is a day-long event consisting of three parallel broadcasts of interesting talks by leading experts on the platform, postmortems, analyses, and panel discussions – the next one is scheduled for October 20th.
"The first Teamsdagen took place in the spring of 2020, right before the pandemic really hit us. We had 300 in-person attendees, but there was also a waitlist of another several hundred people who we unfortunately had to turn away", Mårten Hellebro, one of Teamsdagen's event organizers, says.
The following event was scheduled for autumn 2020. By then, an in-person event would not be feasible. Instead, Teamsdagen took place virtually and attracted an audience of 2,500 – over eight times as many attendees as the first event. The third event, which was digital as well, pulled just as many Teams enthusiasts.
"We immediately realized that we wanted professional assistance with production and presentation, because you can't treat a digital event the way you would an in-person event. An elegant presentation of the content is necessary to keep your audience interested", Mårten explains before continuing:
"Decent isn't good enough for us at Teamsdagen, and Twenty Studios clearly shares that philosophy. They bring a whole new dimension to our event."
"Keeping your momentum going is crucial"
According to Håkan Stigh, co-founder of Twenty Studios, the secret to a successful digital event is careful planning and working closely with your client. Håkan appreciates that Mårten and everyone else at Teamsdagen are willing to both challenge Twenty Studios and share their own suggestions and recommendations. This allows them to push the event further together.
"During a digital broadcast, keeping your momentum going is crucial, or you might lose your audience. Your viewers are used to broadcasts like the Eurovision Song Contest, so you need a professional finish. There is an abundance of digital events nowadays, so you need to stand out to captivate your audience. Thus, it is incredibly important to constantly keep your attendees' experience in mind and take every single detail into account", he says.
Håkan and Mårten agree that digital events provide different challenges than in-person events – but there are opportunities to be had as well.
"Our content needs to be interesting, perhaps even more so than at an in-person event, because we can't compensate using good food or cool goodie bags", Mårten says.
"Just like a substandard production might blemish your brand, a good one will really let it shine. If you care about your brand, as everyone should, you need to ask yourself if your current production value is helping or hurting it", Håkan says.
Which platform is Teamsdagen broadcasted on, then? Well, Microsoft Teams, of course!
"We wanted to meet our audience where they are, and Teams is actually an excellent broadcasting platform", Mårten says.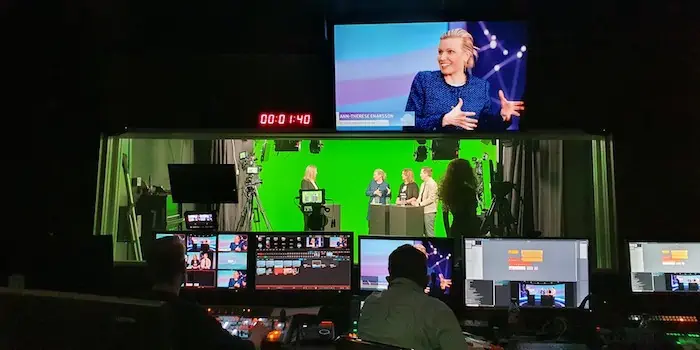 Four major benefits of Teamsdagen going digital, according to Mårten Hellebro:
Capacity
"Twenty's many studios allow us to use several sets simultaneously during events. We broadcast from three different studios: The User Studio, The Decision-Making Studio and The IT Professional Studio."
Availability
"We can reach a bigger audience, and there is no need to turn anyone away. We can include speakers who would be unavailable otherwise, and since everything is recorded, attendees can access every part of the event whenever it suits them."
Post-event engagement
"Now that all of our sessions are recorded, we have found that people are still engaging with the content after the event, which is now an important part of our concept."
Interactive elements
"We use Teams' chat function to answer people's questions in real time during each talk."